FEATURE: The circle of life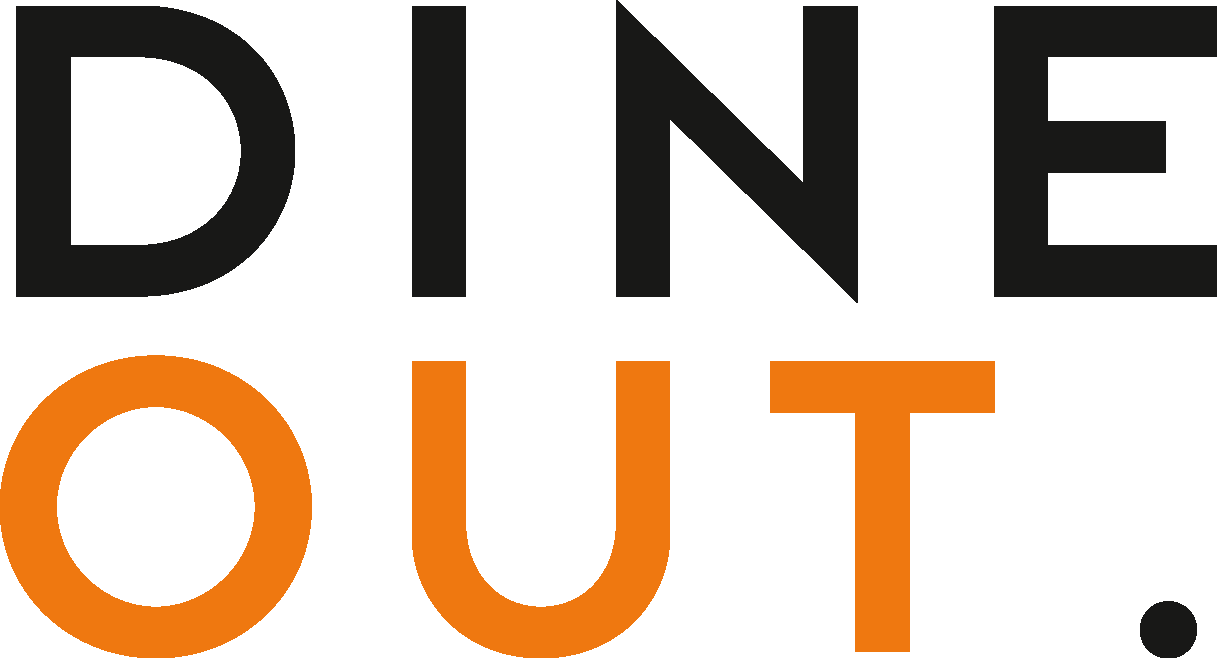 Oct 27, 2021
What does it mean to be a truly sustainable restaurant in 2021? Deb and Phill Lewis' vision of a genuine circular economy is being brought to life at their latest brand in Dusty's Restaurant Group
Kindle. A verb, meaning to ignite something on fire; or to arouse and inspire an emotion or feeling. Kindle is also the latest restaurant to be added to Deb and Phill Lewis' family of businesses in south Wales – and it is certainly an inspirational conversation-starter.
For instance, the seating – which surrounds the former Warden's Cottage at the edge of Cardiff Park – is completely outside, albeit under cover. Phill chuckles as he moves his computer screen to pan across the tables under what has affectionately become known as the Cow Shed, saying that a fully al fresco restaurant battling the Welsh elements is "bloody stupid". Despite the menu showcasing high end dining, guests won't find napkins on their table, either. And don't get the Lewises started on reusable coffee cups.
Before you raise an eyebrow, Deb and Phill's sincere approach to operating a restaurant business sustainably is nothing short of genius. And though a sustainable restaurant concept is not novel to the sector – Phill refers to Silo's Douglas McMaster as someone who has been pushing the boundaries of sustainable hospitality for a number of years – Kindle is a fairly unique proposition in that except for the original outer shell of the cottage, this is a project built with sustainable principles at its core from the very ground up.
The Dusty's family
Deb and Phill started their hospitality journey in 2014, operating a mobile pizza business. In the seven years that have passed, Kindle is now the third brand under their umbrella. Dusty's Pizza operates from a number of sites in south Wales (and there's another site planned before the end of the year), while Nook is a neighbourhood bistro in Cardiff serving small plates and natural wine.
"What started as a straightforward action to create pizzas and make money became more of a mission, or crusade, to try and change people's perceptions of dining and challenge their approach to eating," Phill explains.
Dusty's won the People's Choice accolade at the Sustainable Restaurant Association's (SRA) Food Made Good awards in 2018, and it was via the SRA that the Lewises found their architect – Object, Space, Place (OSP) – to help them bring Kindle to life.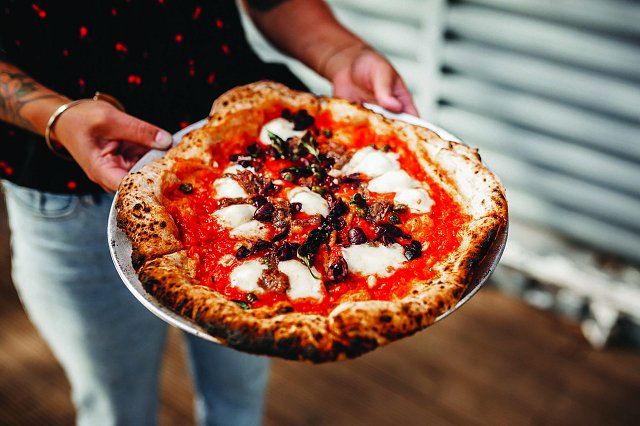 "[The old Warden's Cottage] was an opportunity to do something differently," says Phill. "We took a sustainability approach right from design and recreation and turned something old and derelict into something new(ish), beautiful and functioning. Repurposing an existing premises is far better than building a new one."
"When we took on this premises, it felt natural to ask the SRA if they knew anyone that was doing sustainable restaurant design," adds Deb. "They put forward OSP and this project was what they were looking for. Their design scheme focuses heavily on circular economy and regenerative design frameworks, so everything you put in needs to have an exit point. All the sourcing and provenance has to be as sustainable and ethical as possible. We got to test the whole framework on this one site together – it was a massive learning curve for everyone."
The real deal
When so many businesses are making sustainable claims, it's tough for anyone to distinguish between valid efforts and performative corporate responsibility box ticking exercises (these far-reaching, wishy-washy eco-claims are often referred to as 'greenwashing').
"I was having a conversation about 'greenwashing' with our team recently," Phill explains. "Sustainable practices are labelled similarly to how using 'local and seasonal' produce was about 10 years ago. The worry is that 'sustainability' is the next term to be chucked on menus easily, but if you scratch across the surface, it's because they recycle their tins. On the other hand, there's a danger people will become too evangelical and militant about using such terms, so businesses will become afraid to use them. That's almost worse because it puts people off trying to achieve it."
Phill notes that newly opened Kindle isn't operating as sustainably now as it will be in 12 months' time, for example.
"What we're doing is starting a journey to true sustainability," he continues. "And that journey will never end, obviously. We did very well on the waste produced from the build – there was perhaps one or two skips taken off site, which was really good for a project of this scale – but now the next stage is to operate the restaurant every day as sustainably as possible."
No napkins, no paper cups
Deb notes that part of the pair's approach to sustainability means having challenging conversations with suppliers – from sourcing to packaging. As she puts it: "We might end up being a pain in their backside, but equally we should be having those conversations. It could spark a measure that creates real change."
"We've been addressing small things that are bold moves," Phill adds. "For example, we were having a debate over whether it's better at Kindle to have cloth napkins that are laundered offsite, or to use disposable ones."
They did their research and decided the best solution was to not have napkins readily available on the table at all. Though customers can request one if absolutely necessary, Phill notes Kindle's menu isn't messy finger food.
"We launder napkins at Nook, so we'd never even considered it properly before," explains Phill. "But you use double the amount of energy to launder all the napkins that don't even get used at the table. It's an utterly pointless exercise.
"It's those small conventions that are important to challenge because we just accept them. We're now trying to now review every single thing we put down on the table, or put in the bin, and everything we're cleaning a surface with."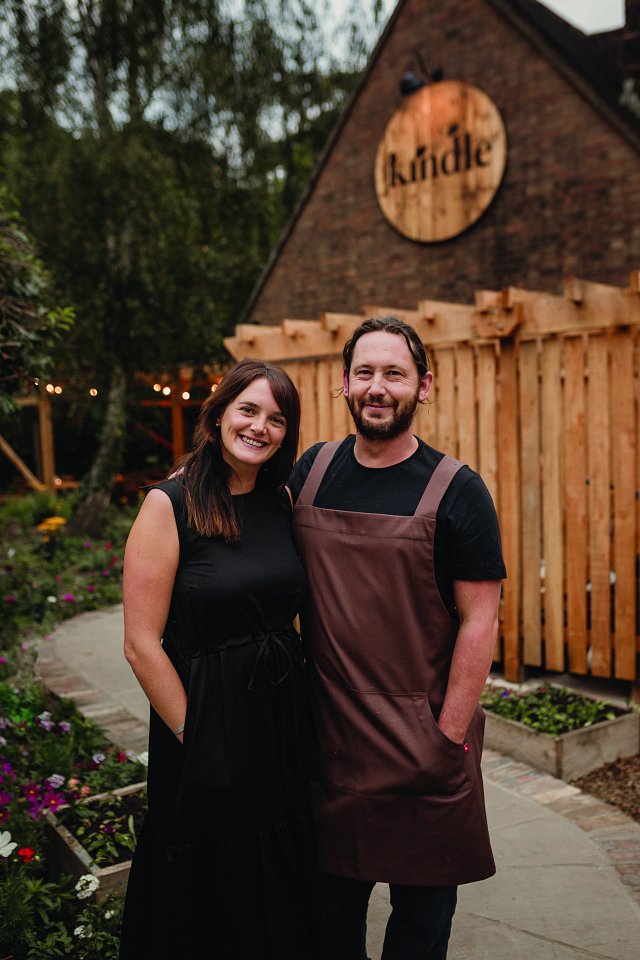 Deb points out that this causes a confliction, because Kindle offers a high-end experience, with guest expectations that come with it.
"Does not having a napkin automatically set at the table take away from the high level of service diners receive?" she asks, rhetorically.  
"The response is it becomes part of the story, and starts a conversation," Phill counters. "It's the same with our approach to reusable cups. We're open for coffee during the day and decided not to provide takeaway cups at all. Though it's becoming marginally more common in hospitality, it's still a big risk, and no doubt we'll lose income because of it. It's a weird balance from an entrepreneurial point of view, but that message is our integrity."
Let's go outside
The decision to only serve covers outside will throw its own challenges into the mix once Wales enters its colder, wetter months. But Deb and Phill have solutions in store.
"We have canvas sides that we can attach [to the pergolas] in bad weather," Phill explains. "Being outside, the 'natural' thing to do would have been to buy heaters, but one of the most unsustainable things you can do it try to heat the outdoors! It doesn't matter if it's gas-burning or a hyper-efficient electric heater. It doesn't make sense."
Guests will instead be offered blankets and hot water bottles, which the couple admit may be interesting come January (especially trying to keep the food hot when it's served). But if you're too focused on the logistical set-up of Kindle, you're kind of missing its point.
"Once you take away those creature comforts, you return to a more fundamental connection with people," says Phill. "We get that at Dusty's, which is all outside. November last year was our busiest month. People bought into the idea and came with big woolly coats and jumpers. It's all part of the experience.  
"I think this will be something that brings people closer together and they have a more intimate experience, in nature. We're in a really beautiful spot, in lovely gardens in the centre of the city – and dining here will be enjoying that on a different level."
Humankind
One element of Deb and Phill's approach to sustainability that stands out is how they're planning to recruit for positions across all their restaurants. For them, sustainable practices in hospitality go beyond a business' menu and architecture.
"We're having conversations with one of the biggest housing associations in Cardiff," says Phill. "Eventually, as a group, we'll ringfence all our jobs to go out to vulnerably housed clients who might need some support in getting out of the cycle of social exclusion."
"Before we went into hospitality we worked in social care – for the council in homelessness and then again in the criminal justice system," explains Deb. "We've got quite a lot of experience working in that industry. It's nice to be in a position now where we can marry those two things together and see that we might be able to create a path for the future. It's a long-term goal, because it takes a while to get the processes right, especially when you're dealing with somebody else's livelihood."
The pair won't necessarily employ just anyone, but if someone has gone through this housing system and has the skills, then they will be given priority for job opportunities they might not otherwise have had the confidence to apply for – or perhaps the housing benefit system may be preventing them from getting a job. Deb and Phill are also hoping to set up a Dusty's academy with Cardiff and Vale College, offering students work experience and training (with potential hires made afterwards).
"If we can tie together our approach to job listing and training, then even if someone in vulnerable housing wants to get into hospitality but doesn't have the skill, we can feed them through the academy and into employment that way," adds Phill. "Then you're creating a sustainable community. That's what we aspire to in terms of a circular economy and giving back to the environment as a whole."
You may also be interested in…