Feature: Born in the USA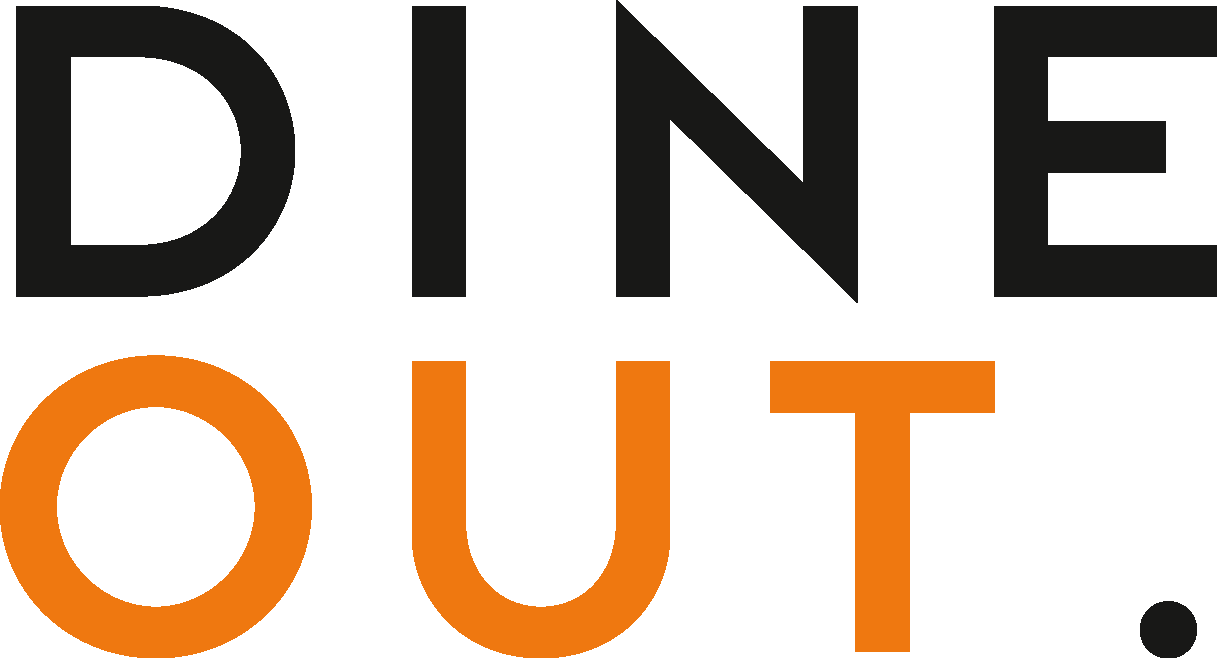 Jun 13, 2022
Burgers with onions and hotdogs with mustard, milkshakes with ice cream and doughnuts with custard, hot sauce for dipping with fried chicken wings – these are a few of our favourite things!
In 2016, Horizons' freshly published Ones To Watch report posited American-themed outlets among the fastest-growing brands of the previous three years. Quick service restaurants (QSR) of this sort are certainly thriving, not just in the UK but also across Europe. According to Forbes, half of Europe's largest restaurant groups fall in the QSR category – a segment generally dominated by US corporations, serving what would be considered quintessential US grub. Americana eats are undoubtedly at home throughout the continent, with Forbes stating that 45% of sales earned by the 95 most influential brands in the EU can be traced  back to just 12 US companies.
"You only have to look at the growth of American restaurant chains in recent years to see the popularity of American foods," says Scott Oakes, commercial manager at St Pierre Bakery Groupe.
"From BBQ grills and fried chicken joints to doughnut houses and milkshake bars, there has been an explosion in the last decade, all driven by the continued popularity of American culture, including music, TV and film influences."
Soul food
The 'soul food' expression was conceived in the mid-60s, when 'soul' was a term commonly used in relation to African American culture. Rooted in the rural south, the phrase is still widely used today, encompassing home-style, family cooking where recipes have been passed down through generations.
This food kept our spirits high throughout long months of lockdown. When in need of a pick-me-up, American specialities provide the big, bold and decadent flavours that uplift us from the inside out.
"Above anything else, it's about indulgence," says Oakes.
Tom Styman-Heighton, development chef at Funnybones Foodservice, agrees, saying: "One of the trends that has proved consistent through Covid and continues to be a major factor in these trying times is a yearning for yesteryear.
"British and American consumers are seeking comfort in traditional dishes and brands that remind them of simpler days. Diners are returning to eating out and they are looking for familiar options that offer authentic flavours at an affordable price point. Americana offers the comfort factor and often fits the bill."
Authentically American
Pinning up a star-spangled banner, serving sliders and calling your venue a 'diner' isn't enough to satisfy the growing appetite for all things Americana. Consumers are keen for a genuine taste of US culture and cuisine – something that can't be provided by some bogus rip-off. OpenTable data from 2021 showed that 64% of diners planned to make up for lost celebrations through restaurant occasions, and for such events to be memorable and worthwhile, they are increasingly seeking out a touch of something extra special. That means sub-par experiential impostors aren't going to fly with guests.
One brand that prides itself on its authenticity is Annie's Burger Shack – a group which currently operates two venues in Nottingham and Derby.
"It's lovely to know that the Americana trend has come to the UK," says Daniel Griffiths, director of Annie's. "We already have a love of all things American as it's been part of our DNA for 13 years, ever since our founder – Annie Spaziano, who was born in the USA – set up the first Shack in 2009."
Spaziano was born in Providence, Rhode Island, and everything at Annie's Burger Shack relates in some form or other to the love of her home. In setting up the brand, Spaziano intended to bring a real taste and feel of America to the UK.
"An independent feel with a focus on good, honest American food is key to what we do and it comes into its own with our breakfast menu, which is a pure American breakfast with waffles, pancakes and bottomless cups of coffee," adds Griffiths. "It's 100% genuine and we make it real! We don't think about what others do – there are loads of places with an 'American feel', but we go much further down that track of actually being American and, because of what Annie brings to the experience, that's a very natural thing to us. Everything that makes our restaurants what they are has heart, authenticity and provenance – and it's there for a reason."
Burger goals
Another thing that sets Annie's Burger Shack apart is that this brand features a whopping 34 – that's right, THIRTY-FOUR – burgers on its menu, all of which are available as meaty, veggie or vegan options. Each burger presents a themed experience of its own, with many drawing inspiration from different US locations or aspects of American culture, granting customers the fun and casual nature of dining that's so prevalent across the region.
"We take ourselves seriously, but never too seriously, describing our food as 'comedy gourmet': the burgers are full of lots of American ingredients, they're oversized, they've each got a story attached to them and people love the choice, which is a hallmark of US cuisine," Griffiths explains.
In the words of Lee Harding, key account director at Rational: "Everyone loves a burger!" And going by the stats, he's not far off. According to data from Statista, the average UK citizen consumed just over one kilogram of burgers out-of-home in 2019/20, amounting to approximately 23g per week that year. "The common thread of the big, popular American brands over here is big, hearty fast food," adds Harding. "It's satisfying comfort food with a reliable consistency, but also customisable with plenty of options and additions available."
It makes sense, then, that restaurants tooting the 'all-American' experience keep track of the latest trends in burger flavours and toppings, ensuring they hit the mark with guests and drum up repeat custom. "Burger trends have always taken inspiration from global influences – especially America, and their best-kept secret is out!" says DJ BBQ, aka Christian Stevenson, chef and brand ambassador for Lantmännen Unibake. "Animal-style' burgers were recently part of America's secret burger menus and they're going big this year. What is an 'animal-style' burger? A quality burger with all the extra fixings and sauces, elevating it into the king of dirty burgers. You can do this by grilling the patty with a mustard glaze, adding a secret burger sauce, upgrading to fried pickle chips or swapping sliced onions for finely chopped caramelised onions. Use this to make your dish sing – it doesn't get much tastier than this!"
And a word of advice on the bun courtesy of the burger boss himself: "Choosing a quality, gourmet bun not only makes the burger look better, but also makes it taste better. We are starting to see growth in bun customisation: make a plain glaze to dip the bun into, which creates a surface for crunchy onions, nuts or even popcorn to stick to, for enhanced flavours and unique textures."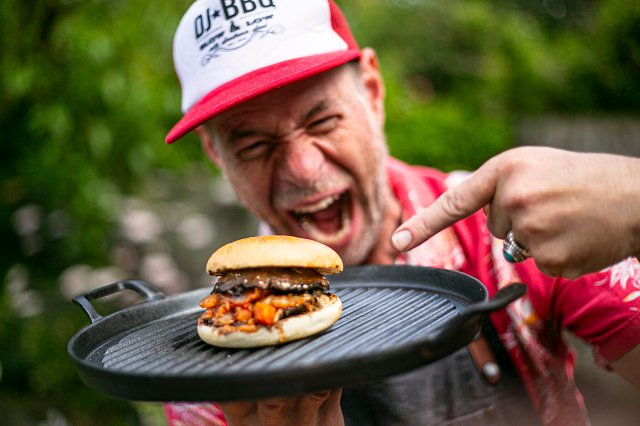 DJ BBQ's burger bonanza
Hot-diggity-Dog
A close relative of the burger, the hotdog is enjoying monster sales not just in the UK, but also worldwide. According to January's Hotdogs and Sausages report (available at researchandarkets.com), the global market is projected to see a compound annual growth rate of 2.64%, soaring from US$75.8bn in 2019 to US$91bn by 2026. Introduced across the pond by German immigrants in the mid-1800s, hotdogs have since become an iconic landmark of the US culinary landscape. Today, New York's hotdog carts, ideal for convenience-seeking Empire Staters needing food on the go, remain a celebrated feature in American popular culture.
"In the USA, different states do hotdogs in their own individual style," Styman-Heighton explains. "Their dogs are less food for fuel and more taste of home. We Brits tend to keep things simple and like our hotdogs New York-style with steamed onions, pale yellow mustard and diced pickles, perhaps with a dash of ketchup on top."
But don't feel you have to stay within that box – there are plenty of things you can do to take your 'dogs out of the ordinary and into the gourmet. Take inspiration from states across the continent, which play around with tasty toppings and combos to create something truly unique. In Alaska, for example, you might find a reindeer hotdog served with onions and spicy sauce; while a classic Hawaiian topping would be rocket with basil aioli, crisp onions and tomatoes; and a Kansas City hotdog would come with sauerkraut and melted Swiss cheese on a sesame seed bun. See – 'the hotdog is your oyster', or however that saying goes…
Mexcellent!
TexMex (from the words 'Texan' and 'Mexican') is another major trend storming the Americana category. "There's a huge diversity in American food, blending and adapting the traditional cuisines of generations of settlers from around the world with indigenous meals and ingredients. Fusions like TexMex have even been exported back around the world," says Harding. Drawn from the recipes of the Tejano population in Texas, this fusion fare has proved increasingly popular across the UK market, with the likes of Benito's, Tortilla and Wahaca – which has the highest percentage of TexMex outlets of all three brands mentioned, with 7% of total stores, according to the Local Data Company – bringing these vibrant flavours into the mainstream. Now, cravings for authentic dishes from the region are bigger than ever.
"We are seeing a rise in demand for Mexican ingredients and staples like corn, cajeta (sweet sauce), tequila, mezcal and chilli peppers," says Rachel Shoosmith, marketing manager at Creative Foods. "Trending dishes include churros, elote (grilled sweetcorn), mole (a complex, slow-cooked sauce), tortas (sandwiches) and tacos. Mexican-inspired breakfast burritos and chilaquiles (fried tortillas with tomato sauce, eggs and cheese) are also popular menu options."
TexMex is great for busy commercial kitchens, with dishes like fajitas and enchiladas bringing simplicity and variety in pretty much equal parts. Switch up fillings – including veggie, vegan and gluten-free options – so guests can mix and match, and make a selection of sauces, salsas and, of course, guacamole in-house to offer guests a brand-new taste sensation with every scrumptious bite.
Sauce of joy
An easy yet effective way to keep Americana dishes current is to serve them alongside an interesting range of sides and sauces. Relishes and mustards, for example, bring that true US flavour, while spice specialists might enjoy the real deal with a dash of an authentic regional hot sauce fresh out of the States. Mayonnaise and aioli are also great additions; according to Kantar (52w/e 18 April 2021), the total sauce category grew by 20% last year, with mayo leading the way, generating £37.2m in sales. As such, sauces are crucial considerations when it comes to perfecting your Americana offering.
Slow smokin'
Smokehouse restaurants and BBQ joints are staples of US cuisine. Carnivorous Americans can't get enough of their slow-cooked meats, which deliver a real depth of flavour and a taste of true home-style cooking. "Smokehouses and everything that has come within that sector of the market have been big winners in recent times," says Griffiths. From Hickory's, to Pappy's Texas BBQ, Bodean's and beyond, Brits love the deep and smoky flavour profiles derived from this style of cooking. "It will be interesting to see how these categories cope with the plant-based demands of the consumer," adds Griffiths.
Styman-Heighton has also recognised growth in the plant-based movement across the pond.
"Like us, Americans have discovered a greater concern for sustainability and personal health," he says. "Vegan and vegetarianism are experiencing high growth stateside, much like they are here."
You want your menu to be accessible to everyone, so plant-based alternatives to traditionally meat-focused dishes are essential. There are plenty of exciting things you can do to cater for plant-based diners – offering cauliflower 'wings' alongside the chicken option, for example, slathered in a mouth-watering marinade or served with a home-made dip, will leave your vegan patrons feeling welcome and well taken care of.
"Plant-based cooking is where it's at," DJ BBQ exclaims. "The growth rate is exponential and not slowing down. With half of consumers expecting plant-based options, it's vital that every operator has decent vegetarian and vegan items on their menus."
The American Dream
Restaurateurs looking to capitalise on the Americana trend should first speak to natives or experts who understand the market, and then look to recruit suppliers that can offer a consistent stream of authentic, high-quality products. "The key word here is 'authentic'," Griffiths emphasises.
And remember – it's not all about the food. As Harding explains: "Perhaps just as influential as the dishes on the menu is the style of restaurant – family dining with something for everyone, offered in a good atmosphere with a friendly and enthusiastic team serving customers."
God bless America!
You may also be interested in…